* Mentioned prices may vary depending upon date of travel, hotel availability, surge pricing and seasonal rush.
Dwarka, Diu and Rajkot Tour Overview
The state of Gujarat is in the Western India region of the India. Lothal, near to Ahmedabad and Dholavira, near to Kutch are sites of a Harappan (Indus) civilisation, which were older than 4000 years. Gujarat is known for the Stepped Wells, Jain Temples, Asiatic Lion and business oriented people.

Ahmedabad is the only International Airport in Gujarat with regular flights to and from London, New York, Chicago, Singapore, Muscat, Kuwait, Doha Qatar, Sharjah and Dubai.Domestically, travellers can be coming from hubs such as Mumbai, Delhi, Chennai, Hyderabad, Bhopal, Indore, Kolkata. Flights into smaller airports of Baroda, Bhavnagar Bhuj, Diu, Jamnagar, Porbandar, Keshod, Kandla, Surat and Rajkot will connect through Mumbai.

Ahmedabad, Vadodara, Surat, Rajkot, Bhavnagar, Bhuj, Jamnagar, Junagadh, Surendranagar, Porbandar, Kandla are Big Station to access Indian Rail Network.Contact for best Group rateGST.
Room incidentals.
Airfare/Train fare
Any major meals
Horse ride/pony ride/helicopter ticket
Tipping/gratuities to guide/driver.
Beverages during meal time.
All entrance fees where ever applicable.
Camera & Video permits.
Any services not mentioned in the above.01-0520-12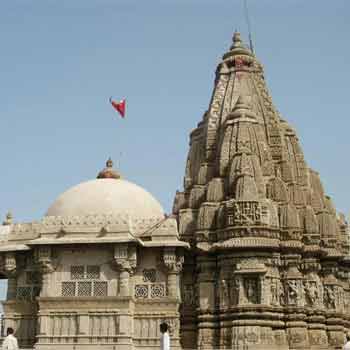 Breakfast at hotel
After breakfast check out from hotel and proceed for Dwarka sightseeing.
Dwarka Local Sightseeing (Bet Dwarka, NageshwarJyotirlings, Rukmini Temple Etc), DwarkadishAartiDarshanIn Evening &
Dwarka also spelled Dvarka, Dwaraka, and Dvaraka, is a city and a municipality of Jamnagar district in the Gujarat state in India. Dwarka (Dvaraka in Sanskrit - used in this article when referring to the city in a historical context), also known as Dwarawati in Sanskrit literature is rated as one of the seven most ancient cities in the country. The legendary city of Dvaraka was the dwelling place of Lord Krishna. It is believed that due to damage and destruction by the sea, Dvaraka has submerged six times and modern day Dwarka is therefore the seventh such city to be built in the area.
Transfer to Somnath via Pobandar.
Check in to the hotel at Somnath. Dinner & overnight stay at hotel
Meals : Breakfast & Dinner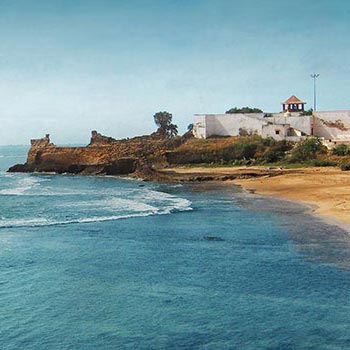 After breakfast drive to Diu on A sea cost available the best beach of Gujarat. On arrival check in at a Hotel & Full day enjoy the beach activity Overnight stay at Diu.
Diu is a city in Diu district in the union territory of Daman and Diu, India. It was the location of the pivotal Battle of Diu in 1509 between Portugal and a combined force of Turkey, Egypt, Venice, the Republic of Ragusa (now known as Dubrovnik) and the then Sultan of Gujarat, Mahmud Begada. Diu District is an island lying off the south coast of Gujarat Kathiawar peninsula, separated from the mainland by a tidal creek. It has an area of 40 km², and a population of 44,110 (2001 census). The town of Diu lies at the eastern end of the island, and is known for its fortress and old Portuguese Cathedral. It is also a fishing town. The village of Ghoghla, which lies on the mainland opposite the eastern end of the island, is also part of the union territory. Note that in Google Maps you can find Diu with the name of Dangarvadi.
Back to Hotel. Dinner & overnight stay at hotel
Meals : Breakfast & Dinner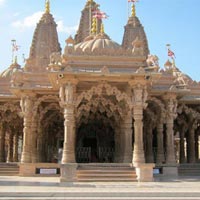 After breakfast check out from Hotel and transfer to Rajkot via Sasangir. Drive to visit SasanGir (45 Km). An Asiatic Lions of Gir National Park, Evening visit the Lion Sanctuary (Jeep safari Optional). Overnight stay at Somnath.
SasanGir Lion Sanctuary, which lies on the southwestern fringes of the Saurashtra Peninsula (west-central India), is the last home of some 300 Asiatic lions. It was created in 1913 to protect the largest surviving groups of the Asiatic lions. It was given a sanctuary status in 1965. The vegetation in the area consists of teak with a mixture of deciduous trees, including sal (Shorea), dhak (Buteafrondosa), and thorn forests. A few springs also exist, but their flow is rather eccentric depending upon the season. Gir Forest is today the only place in the world outside Africa, where the lion can be seen in his natural habitat.
Check in to the hotel at Rajkot, Dinner & overnight stay at hotel.
Meals : Breakfast & Dinner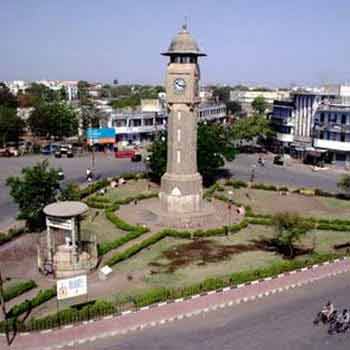 Breakfast at hotel. After check out from hotel proceed for Rajkot sightseeing - Aji dam, Ishwariya Temple, Swami Narayan temple. Rajkot was founded in the year 1610 A.D. by Chief VibhajiJadeja&RajuSandhi. Rajkot was once the capital of the princely state of Saurashtra.
Dinner & overnight stay at hotel.
Meals : Breakfast & Dinner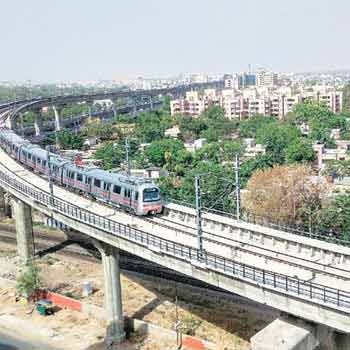 After breakfast check out from hotel and transfer to Ahmedabad. On the way visit Bhavnagar local sightseeing - Bhavnagar is known for Gandhi Smriti, an institution built in memory of Mahatma Gandhi, the Barton Museum, the Central Salt and Marine Research Institute,Takhteswar temple and Gauri-Shankar lake. Check in to the Hotel at Ahmedabad.
Dinner & overnight stay at hotel.
Meals : Breakfast & Dinner