* Mentioned prices may vary depending upon date of travel, hotel availability, surge pricing and seasonal rush.
Port Blair, Havelock and Cellular Jail Tour Overview
Andaman and Nicobar are a large group of nearly 600 islands in the Bay of Bengal. Though they are a part of India politically, they are closer to Myanmar and Thailand than to the Indian mainland. They are grouped here with Southern India. They were just north of the epicenter of the Boxing Day quake of 2004, and were the site of dozens of aftershocks. The Nicobars were badly hit by the resulting tsunami, while the Andamans escaped with a few bruises. With the exception of Little Andaman Island and the Mahatma Gandhi Marine National Park, the rest of the tourist destinations are operating normally again.

Little Andaman is an island in the Andaman Islands. Of the islands open to tourism it's one of the largest, yet it's remote location makes it the least visited. Those that do make the journey will stumble across pristine beaches, waterfalls, oil palm plantations and good surf.

Port Blair's Vir Savarkar Airport (IATA: IXZ) is located about 2 km south of the city. Taxis and auto-rickshaws wait outside the terminal at flight times. Public buses can be flagged down on the main road just outside the airport (cross the road). A bus to Aberdeen Bazaar will cost no more than ₹7. The terminal is small and reasonably modern, with an air-conditioned departure hall, but aside for an overpriced kiosk selling chai and crisps there's not much to tide you over if your flight is delayed.
Regular pax ship services are available to Port Blair from Chennai. There are 3 to 4 sailings every month, The voyage takes about 50 to 60 hrs & the ship normally berths at Port Blair for about 2 to 4 days.Contact for best group rateGovt. Service Tax as applicable
Any Airfare
Lunch during the tour
Expense of personal nature like tipping, laundry, telephone / fax calls, alcoholic beverages, camera/video camera fee at monuments, medical expenses, airport departure tax etc.
Any other services not mentioned in the inclusions.
Tips, insurance, laundry, phone calls
The services of vehicles is not included on leisure days after finishing the sightseeing tour as per the itinerary.
Any kind of drinks (alcohol, Mineral, aerated, bed tea on tour or any other snack while waiting at airport or waiting for jetty ).
Camera fee, soft or hard drinks starters.
Medical travel insurance.
Additional costs due to flight cancellation etc. Cost incidental to any change in the itinerary/ stay on account of flight cancellation due to bad weather, ill health, and/or any factors beyond control.19-0120-12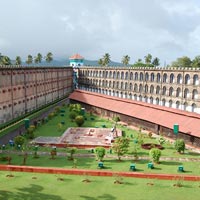 Arrival to Portblair. Our representative will meet and assist you at the Veer Savarkar Airport. Board the waiting vehicles, drive to your hotel and check in. First half of the day is at leisure. Later in the afternoon visit Cellular Jail followed by Light and Sound Show.
The Cellular Jail has a pride of place in India's freedom struggle. Many a stalwart were imprisoned here. Declared a national memorial, this three storey prison constructed by Britishers in 1906, is a pilgrimage destination for freedom fighters. This colossal edifice has mutely witnessed the most treacherous of inhumane atrocities borne by the convicts, who were mostly freedom fighters.
The day draws to a gentle close with the Sound and Light Show at the historic Cellular Jail which gives you a vivid experience of its strong association with the freedom fighters and their struggle for independence. Overnight stay at the Hotel.
Meals : Dinner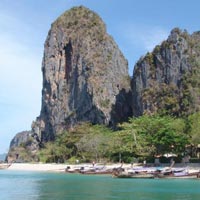 Today after breakfast embark on an Island cruise. One of the most sought after activities. It leaves a lasting impression.
Visit Ross Island. Once the administrative headquarters of the British and capital of these Islands, the island is now under the Indian Navy. It stands now as a ruin of the bygone days with the old structures almost in debris. There is a small museum named Smritika, it holds photographs and the other antiques of the Britishers relevant to these islands. The island is famous for friendly flocks of Deer and lush green walking trails.
Afternoon after lunch trip to Corbyne's Beach. Corbyn's Cove is a serene and unspoiled soft sandy beach in Andaman near to Port Blair. This beach is set in picturesque backgrounds of lush green coconut palms and pleasant sea. There is a pristine tourism Complex, which offers all kinds of facilities for an enthusiastic traveler.
This is an ideal spot for sun basking and sea bathing. The main attractions in this beach are the inviting water sports activities. This beach and the water closed to the beach are perfect location for surfing, scuba diving and boating. Many pill boxes and bunkers established by Japanese add the attraction of the beach. Overnight stay at Hotel.
Meals : Breakfast & Dinner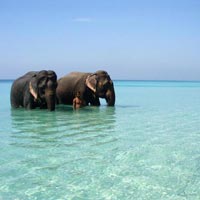 Today after breakfast you will transfer to Jetty. Head to Havelock Island on board Cruise connecting the two islands! Havelock, about 54 kilometers northeast of Portblair, the Island is a hidden jewel. Few Indians know of this stunning beach destination in their own backyard while heading for Phuket (in Thailand) across the waters of Andaman Sea. Havelock is a serene tropical island encompassing about 86 square kilometers. Its clear waters are rated among the best in the world for snorkeling and scuba diving. Close to 1000 different species of marine life inhabit the waters of the Andaman Islands. Scuba divers can see nudi branchs, sea slugs and snails, varieties of ghost pipe fish, jaw fish and a number of different crustaceans of all shapes and sizes. With its serene beaches, 40 meters visibility underwater, colorful coral reefs and 'far from the maddening crowd' appeal, Havelock Island has emerged as a dream destination among discerning travelers.
Arrive at Havelock Jetty, you are met and assisted by our representative. Board the waiting vehicles and drive to the hotel. Check in at the hotel. Overnight at the Hotel.
Meals : Breakfast & Dinner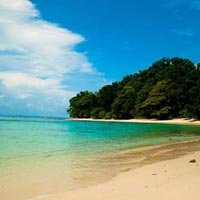 Today after breakfast, proceed for Radhanagar Beach (or Beach No. 7) is the jewel in the crown of Havelock Island. Located on the western side of the island, it stands away from the cluster. The glorious white sand beach shot to global fame when Time magazine (in 2004) rated it as the finest in Asia. With lush tropical forest rising on a hill to one side, the draw of this white sand beach has steadily grown in the legion of avid beach buffs. The popularity of this beach has triggered cruises from across the Andaman Sea. travelers cruise over a few days from Thailand to experience the magic of this beach in particular. A wide beach that runs over a few kilometers, Radhanagar is simply stunning. It lends itself to a variety of activities.
Afternoon Board the vehicles and drive to Havelock Jetty. From here sail to Portblair on board Cruise. Upon Arrival check into the hotel. Overnight stay at the Hotel.
Meals : Breakfast & Dinner