* Mentioned prices may vary depending upon date of travel, hotel availability, surge pricing and seasonal rush.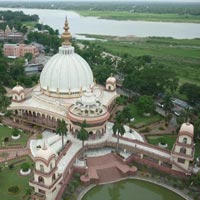 With packed breakfast proceed to day long excursion to Mayapur, Iskon Temple with Nabadyip, the birth place of Sri Chaitanya.Mayapur is located at the center of Sri Navadvipa-mandala, the eternal pastime abode of Sri Krishna CaitanyaMahaprabhu. Sri Navadvipa-mandala is non-different from Sri Vraja-mandala, the eternal pastime abode of Sri Krishna. Measuring thirty-two miles in circumference, Navadvipa-mandala originally consisted of nine islands forming an eight-petalled lotus floating on the waters of the Ganges. Liberated souls, blessed by Lord Caitanya, can still perceive this spiritual reality.
The Navadvipa-dhama-mahatmya states, "Whoever visits Navadvipa becomes freed from all offenses. Whatever a pilgrim obtains by wandering to all the holy places is obtained simply by remembering Sri Navadvipa. A person who simply sees Navadvipa gets the great fortune of love for Krishna, birth after birth."
Back to hotel. Overnight stay at Hotel.
Meals : Breakfast & Dinner
· Hotel rooms are subject to availability, else we provide similar accommodation.
· The order of the itinerary is subject to change without prior notice (according to weather conditions, any Political Problems or other
· circumstances).
· Amendments of services, Number of heads, dates or group size can have an impact on the quotation and have to be revised accordingly.
· Child / Extra adult sharing with double bed. Extra meal cost will pay by the guest for free of cost occupancy.
· An additional mattress or a rollaway bed will be provided for the third person sharing the room. It may vary as per hotels.
· Departure & Arrival between 2300hrs and 0700hrs mid night surcharge will be apply.
· Child age 10 years and above will be treat as an adult
· If tour will be extend due to any emergency circumstances, extra cost will be borne by the Guest.
· Any changes of Transportation during the tour, extra cost will be borne by the Guest.
· Transportation service is point to point basis.
· All traveler has to follow the day wise itinerary which will not change while traveling.
· Kindly verify all the details with your coordinator before travel.
· If any difficulty / technically problem during the tour kindly cooperate with us to recover the situation.
· Some sightseeing depends on Govt. permit, Each Guest should be carry their Govt. Identity Card (Original & Xerox both) with passport
· size photograph at the time of travel
· 100% payments must be made to SUNBIRD JOURNEY….before 15 days of Travel date.