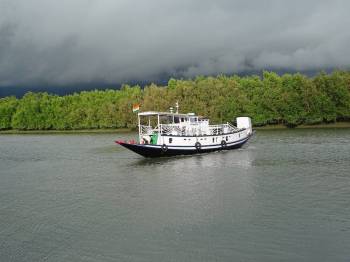 8.00 A.M. : Departure from Kolkata, West Bengal India.
(Refreshments are provided during the journey through rustic Bengal)
12.00 A.M. : Arrival at Gothkhali (Here the road journey ends and the cruise to beautiful Sunderban begins).
12.30 P.M. : Departure by Boat for Dayapur. Tea/Coffee on Boat
1.30-2.00 P.M. : Arrival at Sunderban Tiger Camp, Dayapur (The resort is located right opposite the Sunderban
Tiger Reserve Forest separated just by River Pitchkhali).
2.15 P.M. : Lunch.
3.30 P.M. : Departure by boat for Sajnekhali Tiger Project Area for viewing Wild life, Sajnekhali Museum,
Mangrove Interpretation Centre & Watch Tower.
5.30 P.M. : Return to Sunderban Tiger Camp.
6.00 P.M. : Evening Tea/Coffee with Snacks. Enjoy a Panoramic View from Watch Tower. Evening Get-Together.
Folk Dance by Local Artists/ Wild Life Movie and Bonfire (during winter season only)
8.00 P.M. : Dinner.
Meals : Breakfast, Lunch & Dinner